Food processors are quite versatile and for that reason, may be used for several tasks in the kitchen. These appliances can be used to pulse, chop, mince, shred, grind, slice, and puree almost all foods quickly. Some food processor models can also knead bread dough, make juices, beat egg whites, beat cake batter, and grind meats as well as vegetables.
All this makes cooking so much easier. However, if you do not have a food processor, there are other appliances that you may use with certain recipes that call for a food processor.
What should I use in place of a food processor?
If you don't have a food processor, there's no need to skip all the recipes that require you to use one. There are a several items and tools that you can use in the kitchen in place of a food processor. These are:
1. Blender
The most common appliance that may be used in place of a food processor is a blender which is way cheaper compared to a food processor. Blenders can handle almost all tasks that a food processor does except for kneading dough.  They're ideal for chopping, mincing, and pureeing as long as you don't mind working in smaller batches. With just a little patience and practice, you will learn how to process most recipes that call for a food processor in a blender. Pulse the blender severally until it reaches the right consistency.
Blenders are more versatile than just making smoothies. Some blenders that come with an extra jar for blending herbs and fibrous foods like celery.
2. Mixer
If you need to whip or aerate combinations of butter, flour, and milk, use a mixer. You can mix the solids and liquids either using a hand mixer or a stand mixer. Besides, it's arguably the most notable inclusion in a modern kitchen. In addition to help reducing manual work considerably, a mixer saves you a significant amount of time and allows you faster cooking. The services it offers includes pureeing, mixing, grinding, mincing and chopping – for the price, expecting more would be unfair. Moreover, an electric mixer machine produces finer results without leaving any clear pieces – a must have for those who bake a lot.
Mixers are very useful substitutes for food processors. Just place the ingredients together in the bowl and mix. They also take up very little space compared to food processors.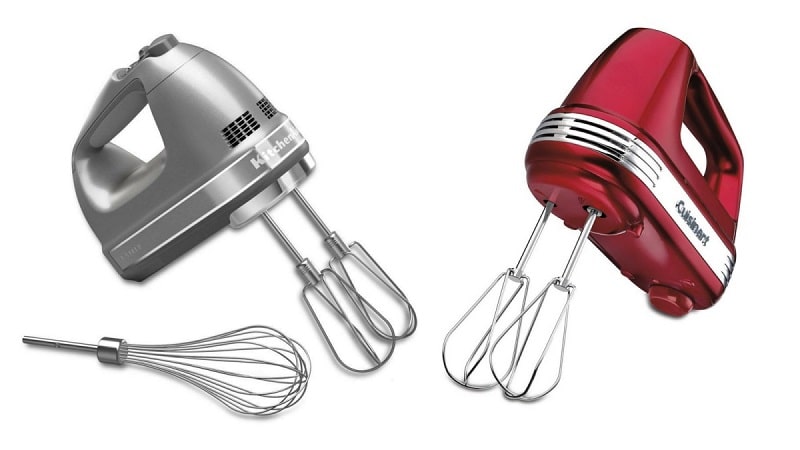 3. Grinder
Grinders are very useful in chopping up nuts, coffee beans, and spices. Put the food that you want to grind in the grinder and pulse it until everything is broken down. The grinder turns the food into a flour-like or rice-like consistency depending on what you want.
Ensure that you clean the grinder well before and after use. Otherwise, your recipe might have the fragrance of spices you had ground earlier on.
4. Rolling pin and plastic bag
If you need to quickly break down food, put it in a re-sealable plastic bag, place it on a sturdy surface then roll the pin back and forth over the plastic bag until it's crushed to your liking. If you notice any stubborn pieces hit them using the flat side of the rolling pin.
This is a great way to break down cookies, chickpeas, and chips.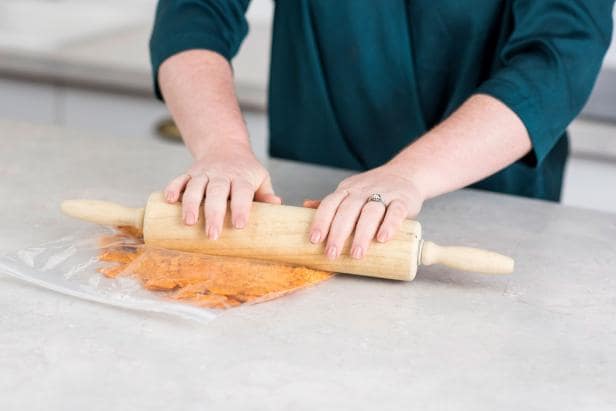 5. Cook until soft
Considering that food processors are majorly used to puree food, you can easily get fine-textured food by letting it cook for long. Boil the food until it's almost falling apart then mash it with a potato masher or a simple kitchen fork.
If you're looking for an even finer consistency, you can pour the food through a sieve.
This method is great for making homemade tomato sauce.
6. Mortar and Pestle
A mortar and pestle also can also do a good job pulverizing foods for various recipes. A popular method since the ancient time, Mortar and Pestle lost its glamor lately owing to the easiness brought by technological advances. But, when these technologies aren't accessible and doing some processing is inevitable, this ancient method still offers a good usability. The best part is, you just don't need to be an expert to use it. Simple in use anyone with a strong hand can handle it.
The mortar – a bowl made of hard substances, for example, wood, metal, ceramic, or hard stone, such as granite. On the other, the pestle is a club-shaped object, which is typically heavy and blunt. Place the item need to be processed in the bowl and press the pestle until it gets the desired texture.  
7. Grater
Graters are used to shred vegetables like carrots, potatoes, or ginger into fine pieces; perfect for making salads. Several types of graters are available in the market, even electric graters also getting traction these days. Comes in different size of grating slots, a grater is a great assistant in the kitchen for a broad range of recipes. Commonly used to grate soft foods, cheese, lemon or orange, for example, a grater can entertain a number of other needs of yours as well.
Be very careful when handling the grater so that you don't hurt yourself while sliding the food back and forth over the holes in the grater.
8. Knives
Lastly, if you don't have any of the afore-mentioned kitchen appliances, you can use a knife to finely chop your ingredients. Place the food on a chopping board and cut it into small pieces. This method is mostly used to cut garlic and onions.
Remember to be very careful with the sharp knife. Hold the knife firmly with your dominant hand. It helps to slice the ingredients into larger pieces first then proceed to do the fine chopping.
9. Chopper
Chopper plays a crucial role in food processing. Thus, most of the food processor come with a chopper. A handful of manufacturers, however, excluded it from their design and market models without chopper. But, in certain recipes, you can't just avoid the use of it, where a normal food chopper can come handy to fill the void.   
Moreover, there are instances when all you need is some chopped onion or thinly sliced veggies – carrots or bell peppers for example, to fan over the top of the salad. Setting up the processor only to do so, I believe, is just a waste of time and effort. Apart from being simple in use, a chopper also requires a minimal storage space. You can simply put it anywhere in the kitchen.
10. Food Mill
Once a revolutionary kitchen accessories, food mill these days considered as an old-fashioned tool. Used broadly mainly for grinding or puréeing food – soups, sauces, or mashed potatoes for example. Widely known as rotary food mill, it's suitable for both hot and cold food. Two variants available in the market. One for manual operation and the other, electric food mill requires a power supply.
Has two main parts – a grinding plate and a crank. The grinding plate attached with the crank and can be operated manually or automatically. When rotate it forces the food down into the bowl through a sieve. This process ensures your required size, especially when you are thinking of making cauliflower rice or creamy mashed potatoes. Besides, it has a great use in removing seeds from tomatoes as well as grapes.
Why do you need food processor?
If there is one thing that I can't afford to remove from my countertop, my immediate answer is – Food processor. For the past few years I have been managing my things, including the kitchen, alone. And, if this past few years have taught me anything, it's that this magical tool worth the investment you made, the space you have allocated, and effort you give during cleanup. Here are the key reasons you need one in your kitchenette:
Save your hands from cramping
It's true that the folks prior to our generation got along just fine without food processors and made everything done by their hands. But, that was the era when smart appliances were not available and this is widely believed that our ancestor were much stronger than us. Whether it's true or not, we urge you to restrain yourself from proving it wrong. Just embrace the blessings technology brought to us and save your hand from avoidable pain.
Just imagine that your guests are already warming the couch, the recipe calls for a food processor to mince or chop and all you are doing is pressing the pestle in the mortar. It sounds ridiculous, isn't it? But, what's most ridiculous is that you are making your invitees wait long and missing on some precious moments, when you were supposed to hanging out with them. A quality food processor not only saves your cooking time, it also makes sure that you are having your fair share of fun as well.  
Yield superior performance than blender
We talked about alternatives of food processor earlier, where blender has a notable mention. Notwithstanding, when it comes to output, a blender isn't anywhere near a food processor. Apart from making a delicious fresh Pico with freshly harvested veggies, you'll also notice the visible difference in the texture of dips coming from the food processed in a food processor.
Stronger motor and sharper blades
In general, food processors come with stronger motor, which means that the blades cut through chickpeas much more sharply. Now it's time to relish the fondness of homemade softer Guacamole, finer Pesto's or creamier Hummus. Even you can prepare mayonnaise at home in just no time.
Effortless cleaning and space efficient
The best part is food processors can be taken apart and in most cases, can be thrown into the dishwasher too. Which makes its cleaning a breeze and your post-dinner cleanup less painful. In addition to that, doesn't occupy a lot of space in the kitchen countertop. Most of them are almost the size of an average blender. Besides, these workhorses come in various size and shape, from where you can find your best fit.     
How to pulse food without a food processor?
If you happen to be a newbie in the kitchen, it's highly likely that you would find it difficult to digest that we can pulse food without a food processor. You have every reason to argue, but before you termed it wrong, here's what you need to know to be comfortable in the kitchen without a food processor. Okay, these might not make you an expert in the kitchenette, but will definitely clear the air.  
A kitchen without a blender is incomplete as well as unimaginable these days. And, we firmly believe you have one, a good one in the kitchen. Just make the best out of it, when food processor isn't accessible. Some contemporary variants even have an extra jar-shaped thing to grind herbs. When the recipe calls for mince or chop, a free standing blender will save your hand from cramping.
Besides, when it comes to cream multiple items at once, which consist liquid as well as solids such as butter, flour and milk, using the mixer will yield a great result. You may not be able to pulse bulk amount, however, a blender is cheaper than a food processor. As long as you are patient enough to performing small batches, you are not obliged to respect the need of a food processor.
In addition, other alternatives of food processor we have discussed earlier can also be used for pulsing food. If you are a fan of old school things or the methods your grandma used to prepare various delicious dishes, you even can try a mortar and pestle. In terms of soft food, your hands sometimes are the best alternative.
Frequently Ask Questions (FAQ)
1. Is a food processor really necessary?
Absolutely, though our grandmother or great grandmother managed their cooking without processor at present this appliance is very handy. It will save your cooking time so that you can complete another task within time.
2. Can I have a knife instead of a food processor?
If you are skillful enough then you can use a knife. But recommend you to have a food processor. This is because there are many things that knives can't do but a food processor can. You can make sauces, soup, dough with a food processor but no knife can do it.
3. Do I want a food processor or blender?
Both of them have different uses. Their mechanism also differs from one another. The food processor was introduced for chopping dry foods, making soup and sauces, dough. On the other hand, blenders' main job is making juice, grind spices, and so on. They both are very useful kitchen appliances.
A blender will be the best option for liquid, such as smoothies and soups, or a food processor for more labor work like chopping and slicing dry foods.
4. Is a food processor worth it?
Having a food processor in the kitchen can save you from being messy. It does the work that a blender or knife can't do. It will chop dry food in an instant. You can make dough for bread. Soup and sauces also make by using it.
Conclusion
Even though using a blender in place of a food processor requires that you work in small batches, it is still not as slow as doing the tasks by hand. Note that some blender models that have a food processor accessory attachment that's usually bought separately but is used together with the blender base.
Before you use your blender, check whether or not its motor is strong and powerful enough to handle some chopping and shredding tasks especially when it comes to cheese, grains, and hard cheese. You should also ensure that the blades are sharp before use; check the manufacturer's manual for instructions on how to sharpen the blades.